I have been attending some great Entrepreneurship-cell seminars lately, one of which was of IIM Calcutta, one of the most prestigious B-Schools of India.
I've been fascinated about entrepreneurship before I even got to know the term "entrepreneurship" so I have done some fair research and learned from my own experiences(no matter however small it is) about entrepreneurship.
In all these days of researching, reading, watching, and learning about entrepreneurship, I was always bothered about how does the ENTREPRENEURIAL MINDSET differ from a regular person's mindset. Now after all these visits and attending the events, I have come up with 9 traits you need to have for an entrepreneurial mindset.
READ: Rahul Yadav Quits Entrepreneurship
1. Be Different. Yet be a part of the herd!    
Being an Entrepreneur requires a different kind of thinking than the people around them. An entrepreneur is always distinctive in his decisions, his thoughts and his actions. Take any book about a successful entrepreneur, read about them and you will realise how much they were able to not take the path chosen by the other people surrounding them. So an entrepreneur should be ready to take a different path always. BUT, an entrepreneur cannot be totally out of the herd because in majority of the cases, the herd is his customer. He needs to stay in the herd, understand their needs, their mindsets and mould his product according to their mindsets, he should be able to think like a customer too otherwise he would end up making a product that would not be appealable to the customers.
2. An entrepreneur knows how to criticize as well as motivate himself.
In the journey of entrepreneurship, you will realise that even those who have supported you for long might go against you if you can't show them proper results and at some point of time, you have to become your own support. In the same lines, you will not always find people to tell you that you may be wrong on a certain step, so you will have to judge your steps and become your critic yourself.
3. An entrepreneur is a creator.
You should like creating things, no matter what it is, it can be a website, an art, a presentation, a company, anything. You should not be afraid of creating things, thinking out of the box. If you have a work that can be done with a conventional procedure, you should work on trying to improvise the procedure to make it more efficient or user friendly etc. History witnessed some great companies forming out solely on the basis of products that were just better and improved versions of other previously well established product or services…so an entrepreneur should not shy away from creating new ideas and implementing them.
4. An entrepreneur shows insane persistence.
Ask any entrepreneur about what was the key feature that made his/her startup emerge as a successful one. You'll get to hear the words "I refused to give up". No entrepreneur exists who made it big without going through times when they saw no hope to move forward. BUT they did thinking of it as a "a shot in the dark" and they are always ready to harness even the slightest of chance of them winning in the business field.
5. The resilience of an entrepreneur can make him or break him.
Apart from everything else that I've learnt over the years, I think I didnt put much emphasis on one of the deciding factor about whether an entrepreneur would stay in the market or not. And that factor is the amount of resilience he can show. As google defines it, Resilience is "the capacity to recover quickly from difficulties; toughness". Basically it is about how effectively an entrepreneur can recover from the difficulties and hardships when things don't go planned. Last week, I attended a seminar where Mr. Sudipta Narayan Roy, M.D., Powell Laboratories said that if someone is an entrepreneur, he is bound to face a time when nothing is going to work out as planned and at that time you cant be down and hopeless because you have a team to run, a company to run. So your resilience is what makes you or breaks you at the time of hardships.
6. An entrepreneur needs to be a good manager.
We are not talking about an MBA degree here but an entrepreneur needs to be a good manager if not a great one. Just imagine, you have 100s of employees, a team of 10 members, clients and customers, you just cannot run away from the hectic need of great management from your side, plus you need to manage your professional and personal life equally and believe me , you do.
7. An entrepreneur must be able to take some good laugh at herself.
Believe me, if there is one thing that you will have to withstand till you become successful as an entrepreneur, is getting laughed at. Especially if you are from India, be ready to get laughed at by your peers as soon as you tell them that your starting up a venture and not looking for jobs. In TVF pitchers, Naveen Bansal tells a true fact that elsewhere in the world if you tell someone that youre taking up entrepreneurship, you get asked "What?", "What is the product?" but in India, you get asked "Why?", "Why Entrepreneurship?". No matter how harsh it may sound, that is the truth.
8. An entrepreneur is ready to initiate things.
A good interaction with some of the industry leaders at IIM-C made me clear about something that you need to plan but you cannot spend your time only planning. Barbara Corcoran, founder of the Corcoran Says "I hate entrepreneurs with beautiful business plans", "Invent as [you] go". it is practically a better idea to start things up, validate it, and then decide the plan of action. So be ready to initiate things up even without a solid plan and improvise as you walk the trail.
9. A successful entrepreneur takes risks, the calculated ones.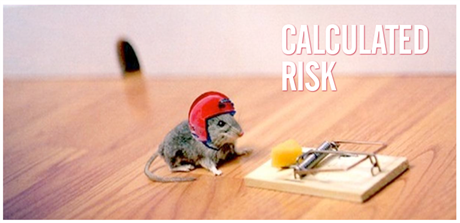 "The biggest risk is not taking a risk"

-Mark Zuckerberg, Founder and CEO, Facebook.
BUT "Entrepreneurs are not risk takers. They are calculated risk takers," says Leonard C. Green of Babson College. "The difference between risk takers and calculated risk takers is the difference between failure and success" he says. The basic fact is you should be aware of the situation and the take risks and not blindly. One does not simply jump off a helicopter with a torn parachute and call it "risk taking", it's called "suicide".