On November 2009, A voice shined in the shade of Sun like a pearl up on the Ocean. With an equally well picturization on Ranbir and Katrina portraying the delightful essence of Love, this song had been the Silent Youth Anthem of its days. An elegant set of lyrics from Irshad Kamil punched with Pritam's decorous Music sense made 'Tera Hone Laga Hoon' a wealthy product of Sony Music, India.

When we talk of 'Tera Hone Laga Hoon' or just about the Ranbir-Katrina relationship, missing 'Tu Jaane Na' will be a dishonour to the Indian Film Industry.
India never lacked the group of oblivious heart broken people.An outbreaking deep, compassionate Love and the agony it carries is the theme of this song. 'Tu Jaane Na' became the words of every Indian Youth Lover. There was never a song in India before, that could produce so much relatable possibility especially to the youth.Every young boy in the streets was found humming this song.Its download rates, caller tune subscribers and youtube videos did wonder to the Media Industry.
With the success of these two songs, all the people in India came to know about the singer called Atif Aslam.In India, you are not a very good singer unless you are singing in the mainstream commercial movies.To some, he was an utter disappointment with his thick voice, while for rest he was the initiator of feelings.
A major portion of people who followed Bollywood films knew this singer from 2008 when they listened to 'Pehli Nazar Mein'.A Romantic thriller Race(March 2008) induced heavy influence in the Industry with this song.The music video of Akshaye Khanna flying in a red Lamborgini with the hot Bipasha Basu drove people crazy.Atif had to shoot for the video too.The dream-guy unrolling his arms through the New York city is still the favourite scene in the song of many Atif Aslam fans. Except for Akshaye Khanna trying to dance with Bipasha, this music video too was the best of its times.
The song itself is so musical in its way that many Indian Reality-show participants chose this song to seek attention.That is the time when Atif's recognition as a playback singer was reaching Indian homes.Many Indian singers during this time raised their voices against him and even called him worthless.The famous singer Abhijeet in a Zee TV show criticised him openly that his songs are hearable only because of music technology.
Atif maintaining his generous professionalism nature had never really come up against anyone.But after this Atif had to prove his fans all over the world that he is as good in real as in playback. In a STAR PLUS show same year he sang a live song which was a much-directed reply to Abhijeet.
https://www.youtube.com/watch?v=SEtWi0HXdvw
Atif's career in India started with a sudden unexpected phone call from Mahesh Bhatt offering him to come to Bombay for a song.
Few years back a young Pakistani boy who always wanted to be a cricketer after completing studies of a Computer Science Engineer discovered his passion for singing.Atif was so good in cricket that he was even selected in the Pakistani U-19 team.But perhaps, destiny wanted him to sing and thus at the age of just 17 Atif recorded Aadat with his pocket money.After leaving Jal, he released the song on the internet in 2003, which became a youth anthem very soon. 'Jal' is the Pakistani band he had worked with at the start of his singing career.The singer admits the discontentment that aroused within the group and how he had to leave Jal.Both Atif and Goher Momtez(Jal) wanted their respective brothers to become the manager of the band.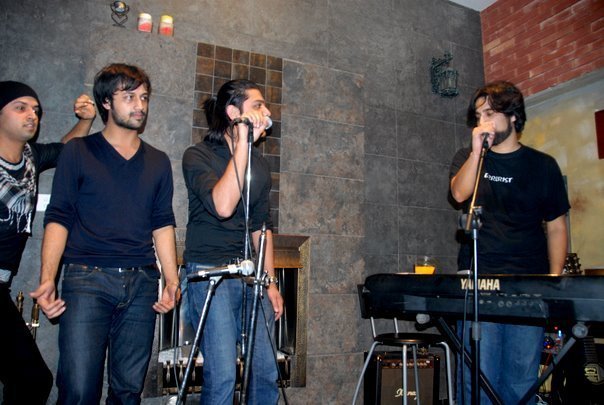 Jal, The Band
Atif came to Mumbai and the first two songs recorded were 'Aadat' and 'Woh Lamhe' used in films 'Kalyug' and 'Zeher' respectively. Both these songs carried a pain in the name of love and thus Atif took his first step to playback singing.
Atif is usually famous for his vocal-belting technique of singing.The singers using this technique are capable of bringing their chest register above its natural passagio (break) at a louder volume.An alternative production is developed, often described and felt as supported and sustained yelling.This type of singing can express heavy emotional sensations.
After the two songs, the next one offered to him was 'Tere Bin' from the film 'Bas Ek Pal' composed by Mithoon.Cast upon Sanjay Suri, Urmila Matondkar, Juhi Chawla, Jimmy Shergill and Atif Aslam this song speaks the tormenting story of a heartbroken lad seeking reasons to his mistress.This song is still the favourite of many people and is an unforgettable song for people who lived the era.
This song was a breakthrough in Atif's career.Social networking sites, forums, teenagers and every single person came to know about this singer.A fan following base grew up for him.
From 2005 to 2007 Atif toured around the world.This was his start of International exposure.
His first international tour was performing in the US and Canada with Rhythm Dhol Bass and Annie Khalid.
Aslam then made his solo debut concert in New Jersey in Summer Beats 2008 at Sovereign Bank Arena.
The following month, Aslam made his debut in South America with a performance at Anthony Nesty Sports Hall, Suriname.
He continued to tour the world with headline performances 

at the Royal Albert Hall in London, alongside Jay Sean. He followed that with dates, across major concert venues in the UK in 2010.

In September 2011, Aslam performed at New York.
On 22 April 2012, Aslam became the first Pakistani to perform in London's O2 Arena, a concert spectacular to promote love, peace and unity among India and Pakistan.
In 2012, he was invited for three concerts at the World Trade Centre in Dubai. This was followed by his debut concert in Bangkok at the Centara Convention Centre on 6 October 2012.In December 2012, Aslam was named among top performers of Dubai for 2012 alongside Pitbull, Enrique Iglesias, Il Divo, Gotye, Evanescence and Swedish House Mafia.
Aslam also is the first man from Asia, and the second artist after Bryan Adams, to be permitted to perform inside the Dashrath Rangasla National Football Stadium in Kathmandu, Nepal.

Man Push Cart is a 2005 American independent film by Ramin Bahrani which takes in three songs sung by Atif Aslam for which he has bagged awards.These are the songs from Atif's album Jalpari which was also a huge success in India.
By 2009 Atif was considered as a legendary singer in India especially after he started working with Pritam.
Each and every song sung by him used to top the chartbusters! Some of his very popular songs after that were 'Tere Liye' (Prince), 'Main Rang Sharbaton Ka' (Phata Poster Nikla Hero), 'Piya O Re Piya ' (Tere Naal Love Ho Gaya), Bakhuda (Kismat Konnection).
 In 2015 Salman Khan personally requested him to sing the romantic number in his film 'Bajrangi Bhaijan'.This song too was amongst the most heard ones in India.
Atif Aslam's music video of 'Pehli Dafa' broke all T-Series records in YouTube and over 40 Million Views in less than two months.Currently, it has more than 75 million views.
The grandeur of his life and the essence possessed by his singing is hard to explain in words.
Himesh Reshamiya in a TV show rightly said about Atif Aslam, " Jise Bhagwan ne apna Liya hai, use hum kaise roke?" [The one who has been acknowledged by God can hardly be stopped by man.]

Atif Aslam's shows were banned a number of times in India in the name of religion out of which Shiv Sena banning his Pune concert is a memorable one.After the Uri attacks, all Pakistani artists were forbidden from carrying out their work in India. Atif Aslam, however, stands as an exception as he was brought back by Bollywood when they realised that the gap created can not be filled up by anyone else.He came back with his songs in films like 'Hindi Medium' and 'Raabta'. This year Atif Aslam performed in Netherlands too.My personal favourite song of this man is ' Kuch Iss Tarah' which will perhaps be there till the end of time 🙂