How interesting to you is that the greatest technologically successful giant venture Google has been fined!
Yes, that's true.
M

argrethe Vestager, the European competition commissioner, said Google "abused its market dominance as a search engine by promoting its own comparison shopping service in its search results, and demoting those of competitors."

The charge on Google is that it has been promoting its own products and thus keeping the audiences to them.
WHY IS THIS ILLEGAL?  
Affecting other companies: Google has been enjoying a leisurely monopoly in the field of Search engines.No other company could ever compete with it.So it was entrusted upon by people that they will provide services to everyone.So now if I have a company and its pictures are there on the internet but you don't show them to people who are supposed to see because you're in that industry too!This has made many online companies not having a tie-up with Google, incur a heavy loss in recent times.
2. Customer's neutral search: The people surfing the internet has just one option to search for things and that is the google.com .Google has always promised them a safe and unbiased search domain. But this recent scenario has put this that the company has not proved a faithful search. There are evidences of Google not displaying or not appreciating in the priority order, products, similar in category,better to have!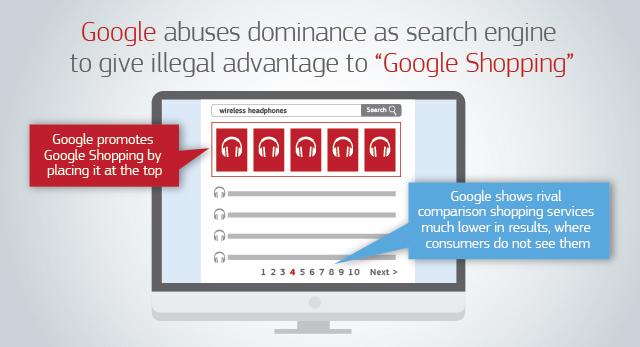 Well, doubtlessly Google has been a boon to us since childhood.So we might ignore all its faults but from the business point of view, it has done a wrong practice.It has failed to value the faith that people had on it for years. Google started with a search engine.Over the years it has expanded its area as well as marketing.It has given rise to several other business ventures and shopping sites to market products too.Just for everything went well with them, they failed to keep the functionalism legitimate.
The effect of Google's illegal practices:
Since the beginning of each abuse, Google's comparison shopping service has increased its traffic 45-fold in the United Kingdom, 35-fold in Germany, 19-fold in France, 29-fold in the Netherlands, 17-fold in Spain and 14-fold in Italy.
Following the demotions applied by Google, traffic to rival comparison shopping services, on the other hand, dropped significantly. For example, the Commission found specific evidence of sudden drops of traffic to certain rival websites of 85% in the United Kingdom, up to 92% in Germany and 80% in France. These sudden drops could also not be explained by other factors. Some competitors have adapted and managed to recover some traffic but never in full.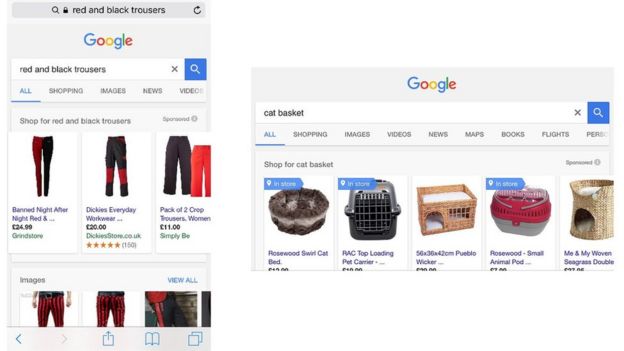 The investigation into Google dates back to 2010. The company was hit with formal charges in 2015 and 2016 and has repeatedly denied it has stunted competition.
The case is seen as a landmark moment as politicians grapple with the growing power of US technology giants, and a test case for how governments will rein them in. It has sparked transatlantic tensions, with Washington accusing Brussels of anti-American bias.
M

s Vestager further said: "What Google has done is illegal under EU antitrust rules. It denied other companies the chance to compete on the merits and to innovate. And most importantly, it denied European consumers a genuine choice of services and the full benefits of innovation."