Hardik Pandya, the Indian cricketer, who has taken giant leaps from being an IPL cricketer to making his Test debut in Galle, has come a really long way. Battling several financial difficulties at home, he and his brother Krunal have established himself among the talents to watch out for.
Hardik revealed about how he would eat Maggi for meals both the time and even borrow cricket kits to play.
"During U-19 days, my diet would be Maggi. I was a big fan of Maggi and situation was also like that. It was difficult to maintain a diet, financially it was a problem. Now I can eat whatever I want to, but that time there were many issues in the family, we had a lot of financial problems. So because of that, I would have Maggi both times — in the morning and in the evening. I would eat Maggi before the match and after going home in the night," Hardik Pandya shared on 'What the Duck' show.
"During the U-16 days the taste buds were pretty active, it was tough to control but now I have to. It has been a beautiful journey. I am very grateful, because of that situation this is where I have reached."
"A lot of people are not aware of this. We had bought a car but there were no savings. Wherever Krunal and I would go to play matches we would go in the car. We had to take cricket kits from Baroda Cricket Association (BCA) for one year. I was 17 and Krunal was I guess around 19. A lot of people questioned, 'these are coming in a car but cannot afford a cricket kit?'," he said.
Hardik clarified that many people were not aware of the situation before they raised their questions. "People did not know the real situation. It was a motive between me and Krunal that we will never take sympathies from anyone, no matter what. We would be strong in good or bad."
"My father was the only earning source at home. He suffered heart attack — not one but two and that too within one night. He almost got another attack six months later but we were glad that we reached the hospital in time. The financial problems started at that time because you don't expect him to… after that. We had no savings and perhaps we spent more than what we earned," revealed Hardik.
"We used to get Rs 40,000 per year but they would cut Rs 4,000 TDS. Whatever we would earn would go in the EMIs. We had a monthly EMI of Rs 10,000 for the car alone."
"We use to go to different villages to play. Krunal used to get more money — he would get Rs 500 for a match and I made Rs 400. But we would always travel in the car… nothing is bigger in life than self-respect. We would go to a petrol pump and buy two-litre petrol in as many different bottles. We would stop a little ahead of the petrol pump. The second bottle would serve as a back-up so that we can at least get back home. We cannot empty both the bottles in one go, as we would never know how long will it last. This is my story till six months before I played IPL," he shared.
Hardik and Krunal both play for the Mumbai Indians, but it is the younger brother broke into the national side first.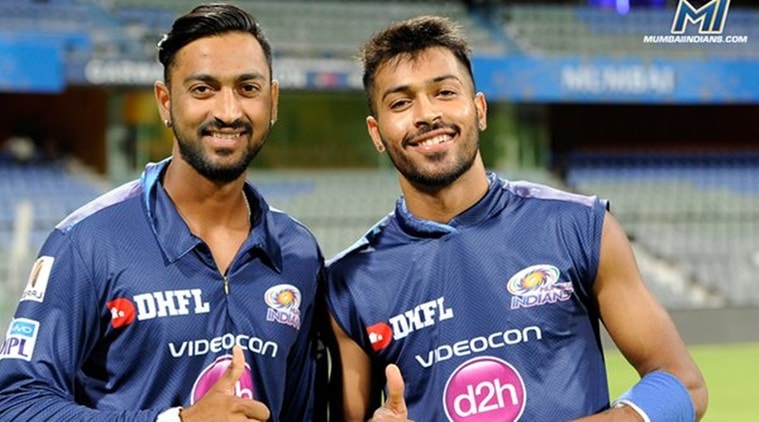 It is well-known that Sachin Tendulkar had told Hardik during an IPL season that he would play for India soon, but the former did not realise that it would be within six months.

"I still remember the first time I met Sachin Tendulkar. It was a surprising encounter. It was the first match for Mumbai Indians (MI), I was already star-struck and we were leaving for Kolkata. I was having my food and someone tapped my shoulder from behind and said 'Hi'. I turned around and literally dropped my plate. I kept it aside; I was astounded. We were not expecting; no one had informed us that he would be coming over. It took about 20-25 minutes for me to gather myself," he recalled. "Not many people would know this. When I had not even played for India, before that we had a do-or-die game in Hyderabad. He told me 'I want to speak to you, meet me sometime later'. I went to him after the match but he was busy with the team and he told me 'let us speak in Mumbai'."
"In Mumbai, after a warm-up session got over I went to him. I was very curious as to what he would say. He took me aside, he told me 'you are doing really well. I should not be telling you but the way you have been playing, the talent and potential that you have, you will play for India in the next one or one-and-a-half years'. I called up Krunal and told him that Sir has said so and so. For my family, it did not matter whether I played for India or not, since it was Sachin Sir who had said this and it gave an assurance that I could do something good for myself," Hardik shared.
Hardik also recalled his innings against RCB, batting alongside Harbhajan Singh. "I still remember it was my first innings against Royal Challengers Bangalore (RCB). I had walked out to bat in a funny situation of sorts. Two overs were left and we were only two wickets down. I was not padded up. They had a bowler named David Wiese and he claimed three wickets in one over. I went in in a hurry and went to Bhajji pa, he said just one think 'jee le Zindagi' (live your life). I went on to hit two sixes," he said.
"People think that I am a drama king. It is my personality, I cannot hide my expressions. Whatever I do, I do it openly, even when I am alone. It comes naturally to me," Hardik added.