What any player wants in his existing club is to shine, is to play for the club, to contribute to the clubs achievements. Similarly Alvaro Morata, the spanish striker after his season with Real Madrid, who signed him back from Juventus, was transferred to Chelsea FC with a bid of around 60 million pounds. With some sensational shows and terrific prowess in a world class club like Real Madrid, the striker surprisingly admits to the English newspapers that he is relieved to be out from Madrid!!! What made his decision?
Chelsea have been looking for a striker all summer after Conte told Diego Costa he was surplus to requirements at Stamford Bridge. Morata will be the Blues' fourth signing of the summer following Antonio Rudiger, Tiemoue Bakayoko and Willy Caballero into the club. 
Alvaro Morata was Antonio Conte's No 1 transfer target this summer – but Chelsea didn't want him, according to pundit Steve Nicol.
Nicol believes Chelsea officials wanted Romelu Lukaku, who instead joined Manchester United, but reckons Conte will be delighted when they seal a deal for Morata, who is having a medical today.
"I have to say I think this signing is the signing that Conte would want or prefer," Nicol said on ESPN FC.
"You said that he wasn't first choice, he probably wasn't first choice for the transfer committee, that's what it looked like. 
"I think he was Conte's first choice, absolutely fits in at Chelsea for me, no danger."
Shadowed by Benzema who inspite of lacking performances was in the first 11 of Zizou's team, Morata started only 11 games for real madrid. For a striker like Morata it was always painful not to start in the team. But on the other hand Real's first 11, being a superstar team, Morata, Danilo, James, Casilla never got the playtime to shine. The striker has told that he is at last relieved to be out from Real. "It was my dream to play for a club like Chelsea FC since I was young. I'm feeling happy here, lets seek what happens next" – Morata said.
Chelsea have yet to announce what number Morata will take but given he will be their first-choice centre-forward this season the No 9 makes sense.Morata wears No 7 for Spain, but N'Golo Kante currently has that in his possession in West London.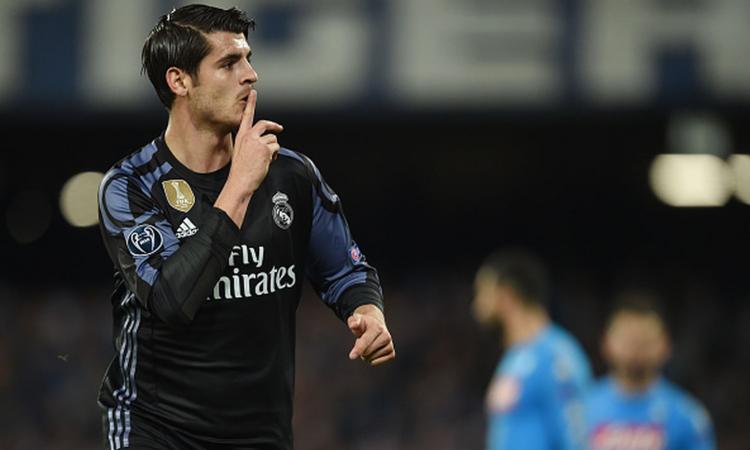 Morata had No 21 at Real Madrid, which could become available given Nemanja Matic is expected to leave Chelsea this summer.

But Chelsea fans are split over whether Morata should take their 'cursed' No 9 shirt…
If Morata gets that Chelsea No.9 shirt . Cursed number

— Osa (@_Soossaa) July 20, 2017
Morata will get the number 9 shirt and score 2 goals in 30 games. But it will be a brace in the cup against fleetwood. The 9 shirt is cursed

— George (@GeoSewell) July 20, 2017
What shirt number will Morata wear? Needs to man up and make the no.9 his own imo. Yer da this, yer da that.

— #9 (@ChelseaGunman) July 20, 2017
As long as Morata doesn't get the number 9 shirt I'll be fairly confident he'll bang. #CFC

— Guts (@MrMeeds) July 20, 2017
The number 9 shirt is waiting for you morata

— Paul Atkins (@PaulAtk68878320) July 19, 2017
Chelsea pls again do not hand Morata the number 9 shirt pls give him 21 his squad number at Real #CFC #MorataIsBlue

— Thea (@theaalyanna7) July 19, 2017
Just don't let Morata take the number 9 shirt

— Subastian (@subasCfc) July 19, 2017
We can all hope that the new Chelsea signing can be fruitful for his career as well as the club's. Morata with his well known finishing and speed- Can he be the one which can recover Chelsea's striker drought?