It is a common question amongst the masses, especially the cricket followers that what should be Mahendra Singh Dhoni's correct batting position and what should be India's appropriate batting order. In this context, everyone seems to be eagerly discussing and deciding the outline of this fruitful outcome. Regarding this another factor that can be reduced is that assembling the finishers such a way rather grooming them in such a way that they are able to smack the ball all over the ground and they can absorb the pressure as well when 3 to 4 wickets are down before the middle overs with some meagre runs on the board
Now with the likes of Virat, Rohit and Shikhar Indian top 3 looks most invincible on paper and perhaps the most settled one but this is where the problem arises since 2015 world cup Indian middle order has hardly got the proper exposure to the new ball i.e in the first 10-15 overs. This makes them in turn more vulnerable to the pace attack when Indian top order has collapsed. Few instances of these were when the likes of Coulter Nile, Boult, and Lakmal breached the top order and there were instances in these when India ended up as a losing side. So this also has been a major issue in past few years. There were only a few instances of exception when Indian middle order stood up with a retention wall one such instance was Yuvraj-Dhoni partnership against England in the 2nd ODI of England's tour of India and another was 1st ODI of Australia's tour of India in October 2017 when Hardik and Msd did the damage
Now the question arrises after top 3 to handle such situations we need such 4 and 5 who can handle such pressure and for that they need to be technically sound enough. No 4 was a position which has been a musical chair with a good no of contenders for a single spot. For us, Rahane is ideal at no 4. We have seen his exploits in the past, he has been perennially getting runs on overseas conditions as well as Indian conditions has got a very good ability to rotate the strike and is a perfect balance of when to go aggressive and when to value the wicket by playing an anchor's role. A perfect example of such was in 2015 world cup South Africa match. He is very well accommodated to such assignments in ipl over the years and his recent series match against the Windies, Aussies and in South Africa too in first ODI. His technique we all are familiar with. With his sensational overseas performance and especially after his both innings hundred at lords and his match-saving 48 at South Africa on such a dreadful soil even his 96 at his first series there or maybe that century at the green top in New Zealand in 2014 we can imagine how much technically sound he is. Coming to no 5, we know Shreyas is a very good upcoming talent and it's a great achievement for such a greenhorn to earn his name in the first place and displaying his abilities in the highest interface as well. But for that, we need to send msd in at 6 which we feel Indian management will be reluctant to do so. As ms comes at 6 with such powerful batting depth above him it is more likely that he'll come by 40th or 45th over to which he doesn't get ample time on the wicket to gradually accelerate with his strike rate and it disallows India to be a 350+team to a 320 team and choking while chasing is another factor even after a promising start.Rather if msd is sent at 5 so he can easily get settled on the wicket and once he plays 25 to 30 delivers he has the caliber to smash the ball around the park we have seen such instances first ODI against Aussies and 2nd t20 against South Africa.Though they have been sending msd at 6 throughout the recent games, it may be one strategy to give the other young guns like Shreyas and Manish Pandey the required match practice and as soon as world cup begins ms has that much qualities to himself to slip at no 5 or even promote himself higher. So that explains mss' batting at 5. This, in turn, will also give a stability to stop a further collapse if top 3 is finished with a meager run on the scorecard.
Coming to no 6 and 7. The finishers. Manish Pandey and Hardik Pandya respectively. They are the ones who'll be able to prevent choking while run chases and are also able to smash the ball right from the first ball. We all have seen there exploits in recent past. Manish Pandey's invincible 104 which gave India one of the most successful run chases without choking even after promising start from Dhawan and Rohit, unlike its preceding game. Again coming to the third ODI against New Zealand in 2016 ODI series where Virat and Manish stitched a 100 run partnership with a valuable score 30s from his side to avoid any further hiccup. Also, 3rd ODI against the Aussies where Hardik and Pandey took India home with another such partnership after wickets fell in quick succession. Also in T20s he and Virat slammed match-winning knocks against Sri Lanka in their home soil and his knock of 79 against SA was a gem as he constructed the timings with msd to give a competitive target of 188 right from a score of 45 for 3. Now if we count his ipl performance this list goes endless. Moreover, he is one of the best fielders India currently have. Believe us it's a blessing to have such a pair of safe velcro hands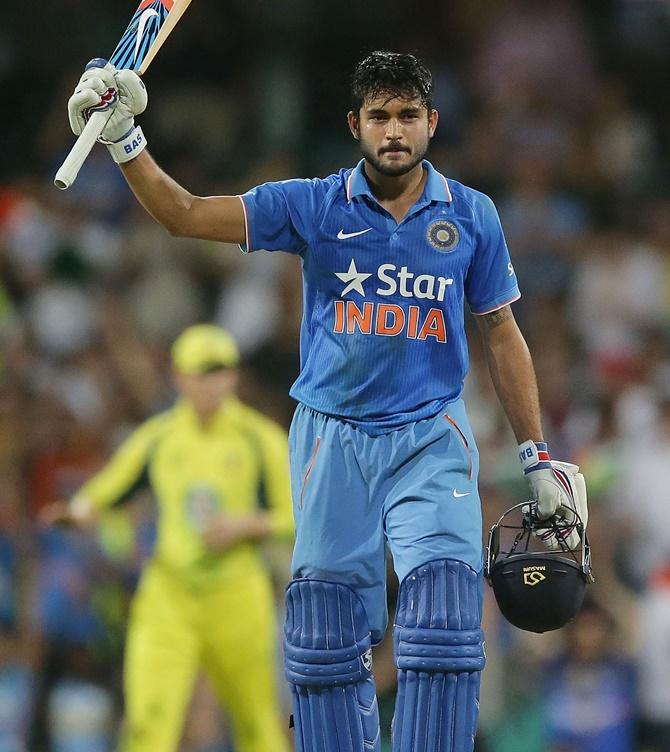 Hardik Pandya, whatsoever we speak of him would be less to describe him. In every limited over series or tournaments India has played he has been sensational, be it with his match-winning knocks against the Aussies or the champions trophy final against Pakistan or the preceding series against England and New Zealand. Also, he nowadays makes sure that he regularly gives 10 overs to Kohli with decent line and length, reasonable accuracy and feasible economy. He is also a brilliant fielder. He has been the find for India as India were in desperate need of such a complete package of pace bowling all-rounder. India tried Binny and Rishi Dhawan but the search seems to be completed with Hardik Pandya.
For bowling, we have two masterclass duo. Bumrah-Bhuvaneshwar and Chahal-Kuldeep. This bowling has made India believe that India can dominate overseas. Bumrah is just 2 years old to international cricket and the pace he is growing is absolutely overwhelming. Bhuvi is also growing silently and continuing to excel. This duo has been doing the necessary damage in the first spell and death. They are growing as a specialist. They also impress in the mid overs if Hardik Pandya is inculcated in first 10 overs or the death overs. Now coming to the spin twin. So far no other team batsmen have been able to pick their length. Every team who played against them perished. Succumbed to bite the dust. They are the ones who give Kohli the wickets in the middle overs. Chahal and Kuldeep are the go-to bowlers and partnership breakers. And they serve him well. So they bowling looks perfectly all right.
Now as this team's legacy owes to Mr. Captain Cool.So the lineup reads –
Shikhar Dhawan
2. Rohit Sharma
3. Virat Kohli
4. Ajinkya Rahane
5. MS Dhoni
6. Manish Pandey
7. Hardik Pandya
8. Bhuvaneshwar Kumar
9. Kuldeep Yadav
10. Yuzvendra Chahal
11. Jasprit Bumrah