P V Sindhu, Sakshi Malik and Dipa Karmakar have made India Proud  by bringing us Glory at the Rio Olympics 2016. And quite recently they have been all over the news.
But there are some people too who need to be thanked, The coaches of these athletes who made their trainees' dream come true as well as made the whole nation feel the pride.
Let's look at the people behind India's golden girls at the Olympics
Pullela Gopichand
Pullela Gopichand is the coach of P V Sindhu who won Silver at Women's Singles Badminton in Rio Olympics. Gopichand was born in Andhra Pradesh. Though he was primarily interested in Cricket like the rest of the country, he was encouraged by his brother to take up badminton instead.
Gopichand was coached by renowned Badminton coach S. M. Arif and then he was admitted to Prakash Padukone Academy where Prakash Padukone, popularly known as Deepika Padukone's Father coached him.
Gopichand's passion and dedication for his sport can be seen clearly by seeing his achievements. While in College he was chosen the captain of the Indian combined universities badminton team in 1990 and 1991.
Gopichand won his first National Badminton Championship title in 1996 and he continued to win that title consecutively till the year 2000. Gopichand has a long list of winning titles and medals, some of the most recognized would be 1998 commonwealth games where he won a Silver and  the Toulouze open championship in France and the Scottish open championship in Scotland both in which he won the championships.
He created history when in 2001, he won the prestigious All England Open Badminton Championships at Birmingham. He defeated then world number one Peter Gade in the semi-finals before defeating Chen Hong of China in the finals. He became the second Indian to achieve the feat after Prakash Padukone, who won the same in 1980.
Recently it has been revealed that a biopic on Pullela Gopichand is being made where Sudheer Babu, a Telegu actor will be playing the role of Pullela. This movie is set to release next year.
Gopichand is 42 years old now and he continues to make India Proud through his amazing skills and coaching that made P V Sindhu grab a Silver At the Olympics.
Brisheshwar Nandi
Dipa Karmakar is a living example that you don't necessarily need to win a medal to win the whole nation's hearts. And the man responsible for this victory of hearts is Brisheshwar Nandi.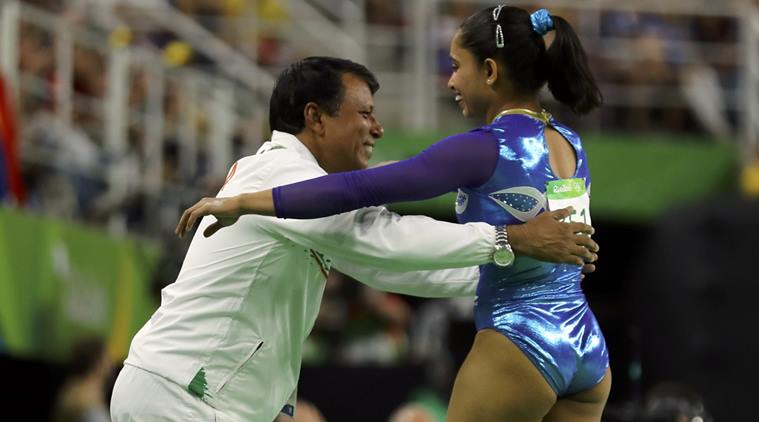 The athlete, who has been nominated for the Khel Ratna, said, "Agar medal milta toh shayad ye award leke mai bahaut khush hoti" (If I had won the medal, I would have been very happy with this award.)
Her coach Bisheshwar Nandi shared the sentiment, saying, "I am happy. Would have been even more happy if we had got a medal."
Recently when Dipa came to know about the specualtion that she might be awarded Rajiv Khel Ratna Award soon, she made a modest plea that instead of that, her coach, Brisheshwar Nandi should be conferred a Dronacharya Award.
Ishwar Singh Dahiya & Shyam Budaki
The whole India Screamed with happiness and pride when Sakshi Malik won A bronze at the Olympics at Women's Freestyle 58 kg. But probably the happiest person there was her coach Ishwar Singh Dahiya.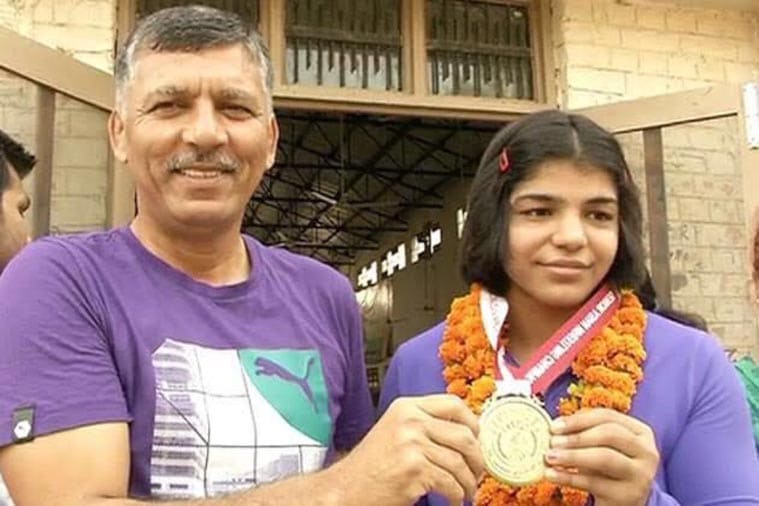 Dahiya stated in media that he still remembers the day when Sakshi along with her mother came to him for training in 2004 in Chhotu Ram Stadium Wrestling Academy. He recalls that when he was training Sakshi there were some opposition from the Locals of Rothak who were apparently not happy with a girl being trained for wrestling.
"But I never believed in not giving training to girls so I trained Sakshi. Today you see a local girl made the country proud by winning a medal at Rio Olympic games," Dahiya told PTI.
"double leg attack is the strongest point of Sakshi in wrestling to tame her opponent." says Dahiya.
Dahiya, aged 60 years now has retired as the District Sports Officer is still coaching 120 trainees at the Chhotu Ram Stadium Wrestling Academy in Rothak.
Another person who plays a key role in Sakshi's victory is Shyam Budaki who trained Sakshi for past one and half years for Rio Olympics. He belongs from a Town called Gokak of Belagavi district.
Although, his posting is at National Institute of Sports, Patiala, Panjab, he had been on deputation at Lucknow, Uttar Pradesh.
According to Shyam, Sakhi Malik is gracious wrestler who always ready to face challenges. "It was our dream we struggling since years. The delight I can't express in words," Shyam said speaking to the media.
This young coach passed his primary education from GMP School at Gokak Falls and high school at Krantiveer Sangolli Rayanna School in Belagavi. He passed PUC at Beynon Smith College and degree at BK College of Belagavi. Later, he did course in journalism and mass communication from Dharwad University and worked in electronic channel for two years as copy editor.
"I and my brother used to practice wrestling in childhood in wrestling akhada in Gokak Falls. We continued it in Belagavi too while imparting education. After passing M PEd, I joined as coach in Sports Authority of India. My first posting was in Pune. Later I was transferred to Patiala," Shyam said. "I have lot of friends and classmates in Gokak as well as in Belagavi. They often chat with me. Presently, I am getting shower of appreciations from my old and new friends,' he added.