Summer's here and there's so much confusion on what to wear, cause c'mmon who wouldn't wanna slay the summers? From summer dresses to prints to denim, we've got some trendy stuff for you which will ignite your shopping spree.
1. PALAZZO


Not a female I know wouldn't deny that palazzo pants are the most comfortable outfit everrrr. It's the go-to beat the heat outfit. Plus, you can team it with anything, be it your favourite kurti or spaghetti top, everything works! It'll give you that easy-breezy, comfortable yet pretty look.
2.KURTIS






Kurtis are a blessing, especially in summers. They are super comfy and make you look your very best. You can team your kurti with shorts to give that fusion of ethnic and western look or wear it with palazzo pants or boyfriend jeans or leggings or anything, for that matter. Maybe, with no pants too. You can wear your kurti like a dress. Kurtis have got your back. ALWAYS.
3.BOYFRIEND JEANS






Whether you got a boyfriend or not, a boyfriend jeans is a must in your summer wardrobe. A ripped boyfriend jeans is all you need to slay a summer day. Pair is with some cool tee and sneaker(or heels) and you're good to go.
4.SUMMER DRESSES




When they say women and summers have been best friends since forever, they say it right. A summer dress shows just the right amount of skin and will get all eyes at you. *Taaadaaaa* Be it a flowery prints or neutrals or bright yellows and oranges, a summer dress is an all time imperative in your wardrobe.
5. FLORAL




Florals are so in this summer, on skirts or on pants or on shirts. Florals give off that happy go lucky look. Very cheerful and happy to look at. One can always pair a florals with some solid colour, like pair a floral shirt with some solid color pants or pair some floral pants with solid colour top. Works amazing either ways.
6.PLAID SHIRTS




Here it is guys, you look 100 times hotter when you wear plaid shirts and roll your sleeves up, just a little(winks) . Nothing can match how cool and comfy plaid shirts look. And especially in summers, you definitely don't wanna compromise on a hot as well as cool look. Plus girls, you can always wear your boyfriend's shirt in many different ways and you'd rock it. (Thank me later xD)
7.DENIM THREE QUARTERS




Denim three quarters on guys is the trendiest summer stuff. You can pair it with your favorite graphic tee shirt and give off that cool and chilled out vibe. You can also accessorize it with your favorite sneakers and a cool watch and you're gonna chill the sun out.
8.PLAYSUITS




Playsuits are such a trendy item on the list. They're pretty, feminine and cool. A right playsuit will make your day and will, of course, fetch you compliments throughout the day. You can dress it up with some long shrug, flats and a sling bag and that's basically all you need. Hashtagoutfitgoals .
9.GRAPHIC TEES




Cotton, comfy graphic tees are my personal favorite. These days you get them everywhere and the fun part is what's written on it. Go grab some graphic tees with amusing stuff written on it and pair it up with your favorite denim.
10.FLARES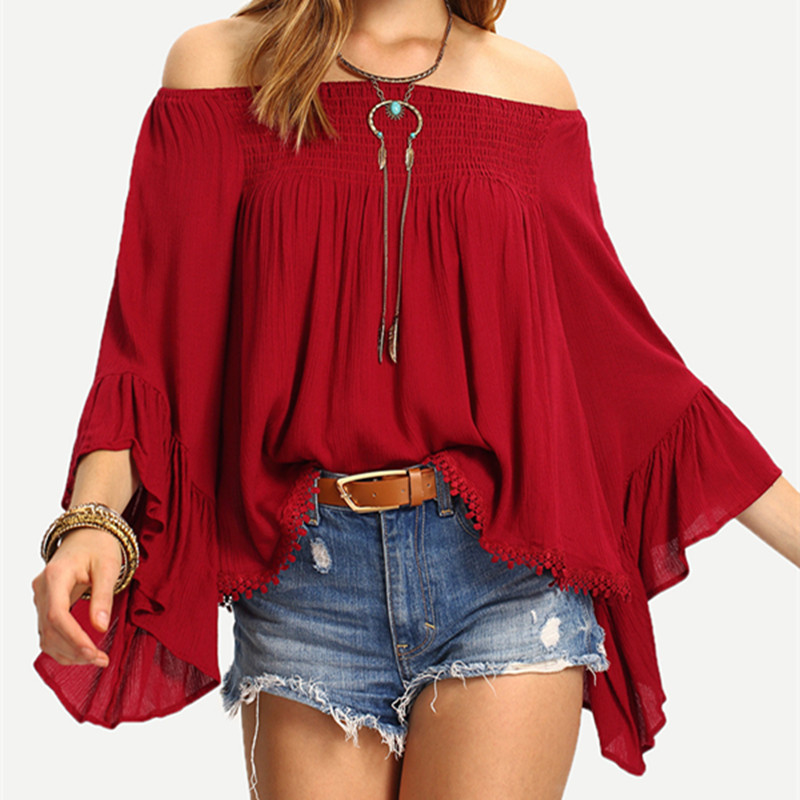 Flare tops give you that dressy, classy yet laid-back look. Pair it up with your favourite jeggings or slim fir jeans and you'll have people admiring your outfit all the time.
Get your summer wardrobe ready and beat the heat.