Like every year, CES- The Consumer Electronics Show, the most awaited annual tech event,  was held in Las Vegas throughout the month of January, where technical giants presented their new techs, and soon to release products. I have listed few of the most innovative ideas that came out of the event, from companies like Intel, Razer,  Byton, Dji, etc. So let's get started.
Starting off with the displays,
1.  88-inch LG 8-k Display:
The well-known company LG has stepped 4 times ahead, to produce an 8-k resolution-ed OLED TV, where other companies are yet to develop their market in 4-k OLED panels.  Offering a high range of color gamut, this prototype is soon to rule the display market the only problem being the lack of 8-k contents in the industry. Another thing to be taken care of is the price in which this display panel is going to be shipped in the market. Considering the 22,000 rupees price tag of their 77-inch 4-k display, these 8-k panels are going to be a money drainer.
2.  ASUS 'Bezel-free kit':
ASUS introduced a very silly, yet innovative trick of vanishing the seam bezels of a three display setup, by just using yo prisms, that gives a perfect surround view for the gamers. There are no filters, software or effects at play here: It's simply an optical device that refracts light around the monitors' plastic edges.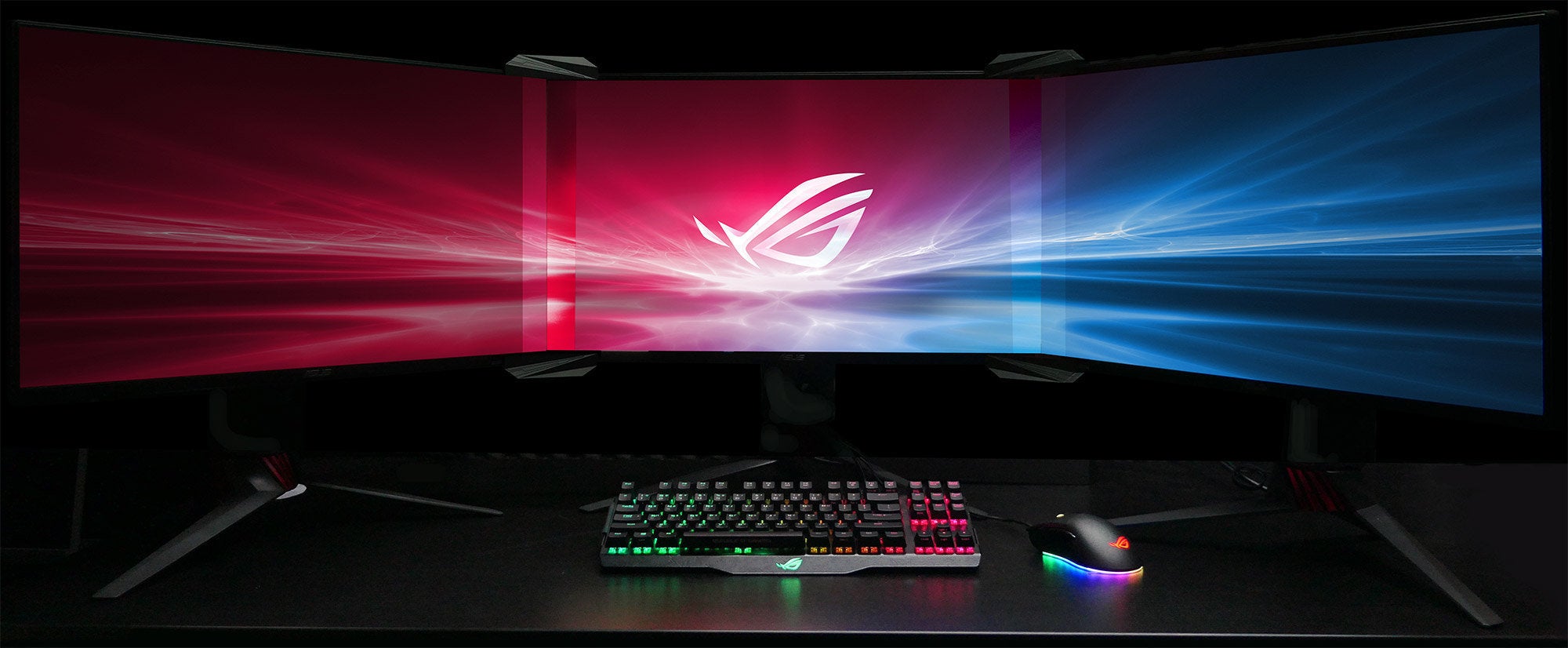 ASUS:
Bezel-free Kit is an accessory that enables gamers with multiple-monitor setups to visually eliminate the gaps where their displays connect, creating the appearance of one extra-large, wraparound monitor for a totally immersive gaming experience. Bezel-free Kit consists of vertical lenses and easy-to-attach mounts that connect the edge of each monitor at a 130-degree angle — the angle determined through extensive testing to provide the best viewing experience. An optical device that requires no software or power to operate, Bezel-free Kit uses light refraction to make the monitor edges disappear to the viewer. It provides an innovative, simple and effective method of increasing field of view and dramatically enhancing gameplay.
3.  Google Smart Home Display:
Lenovo and Google collaborated to compete against Amazon's new smart home display,  Echo Show, that has inbuilt YouTube support in it. Unlike Google Home, Mini, or Max, this time Google has left the hardware parts to be dealt by its partners, by offering them to integrate its Assistant, that is widely seen on almost every other android devices.  There's Duo video calling support, Google Maps, YouTube playback, and even Google Photos. Lenovo said they will be shipping the product in summer with the 8-inch model costing $199 and 10-inch model costing $249. Thus the fight between Google and Amazon keeps on with these devices.
Coming to the AI enabled robots we have,
4.  Misty 1 :
Misty Robotics brought it's new Misty 1 robot especially for the new-be developers, a programmable robot, running on Snapdragon processor, this robot can be programmed with any of the Android smartphones using an app. It consists of motion and obstacle detectors to avoid crashing and face recognition facility. it has a depth-sensing camera and a front camera. It also has a display in front that shows what sort of emotion in which the robot is, and it's programmable. Eventually, the robot can also be spooked and its fun playing with it.
5.  Ping Pong playing Robot:
A global tech company Omron, was credited highly for presenting its artificially intelligent robot, that you can play ping pong with. Forpheus was just a prototype and it's most likely not for sale. They showed how it can play table tennis with its robotic arm and depth mapping techniques. They actually did a competition of who can beat the robot at CES.The motion controller, or the "brain," tells the machine how to hit the ball, advising it on timing and direction within a 1,000th of a second.
6.  Laundroid:
Priced at $16,000, this AI functioned Robot knows how to sort and fold your Laundry. Powered by Amazon Alexa this highly priced robot, takes in your clothes sorts it according to your family members. Laundroid uses multiple robotic arms to pick up the clothes, which are then scanned by cameras. It's connected by Wi-Fi to a server that uses artificial intelligence to analyze the object, and a neural network containing 256,000 images of different clothing items.
7. Mavic Air:
Mavic air is an affordable drone by a company called DJI, showing features of his elder brothers like Mavic Pro. Costing at a price of $829 equivalent to Rs. 52,739, this drone shows pretty interesting features like Boomerang shots and Astroid captures mesmerizing 4-k pictures and send it directly to your phone so that you can share it instantly. It also shows obstacle avoiding technique so that you don't run into trees, maintaining the correct track. Considering the price this is quite a good bargain to win.
Laptops this year,
8.  Intel partners with AMD
Almost all the laptops that are going to launch, this year show one common feature, with Intel's 8th Gen processor and AMD's Gtx 1080 graphics chip. Claimed by Dell, it's best 15-inch laptop XPS 15, would ship with this feature in this year. The Dell, on the other hand,r hand is going to ship with an all-white color. Acer claims its swift 7, the worlds thinnest laptop, is waiting for you to buy this year too. Then there are certain ARM POWERED laptops by companies like Lenovo, HP, that's going to show amazing battery life, and can also be used in tablet mode.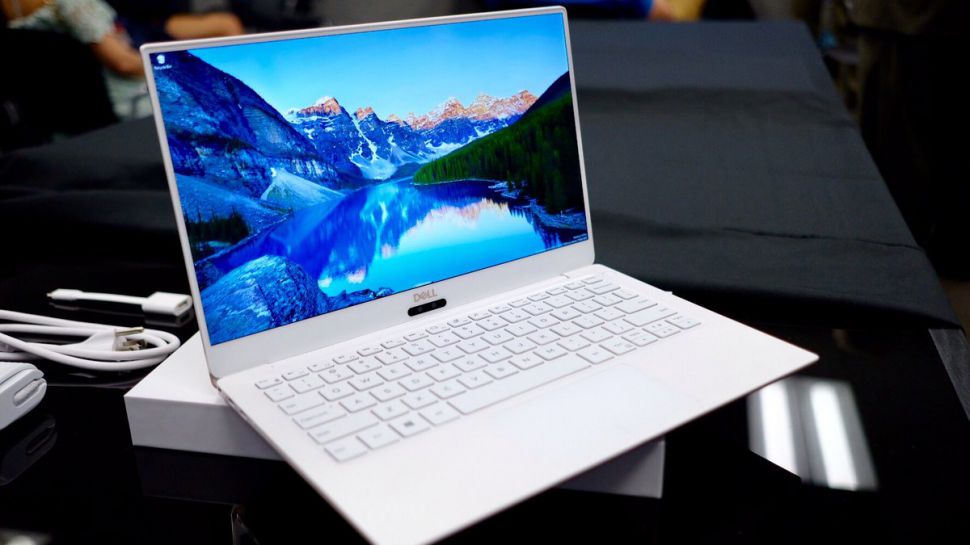 9.  Project Linda:
Razers new experiment with the recently released Razer phone is Project Linda where the phone drives a full laptop. Project Linda is basically a dock, that uses USB c to connect the phone to itself. Consisting of a well-built keyboard, and a high-quality display, the phone sits on the touchpad and does its job quite efficiently. This approach was taken by many companies earlier like Motorola, Samsung, and Microsoft, although Project Linda is by far the best execution of this concept.
Smart Car,
10. Byton SUV:
The biggest attraction of this years CES, was an electric SUV, by Byton. A market which is ruled by Tesla is the target of this new SUV, which shows features like self-driving, and AI support. The car uses facial recognition to unlock, rear cameras replaced side view mirror, and the whole car deck is a display. All in all, this car is by far the most improved technology displayed in CES, and going to give a very tough competition to Tesla Models.