With every passing second, the start of India's leading technical and entrepreneurial festival, TECHKRITI, conducted by IIT Kanpur, is getting closer. Techkriti hosts a plethora of competitions, lectures, exhibitions, and shows. The most important parts of this fest are the many competitions which are full of innovation, passion, and euphoria.
1.

TECHKRITI GRAND PRIX

:
How about a challenging race with your remote controlled vehicle? Taking sharp bends, zigzag curves on a rough road and jumping over planks, powered by a powerful internal combustion engine? Who says it's only the silver screen that can witness the Fast and Furious!?
So here we kick off with the Techkriti Grand Prix, bringing to you a heart-pounding challenge for your engineering skills. Make it, risk it and speed away to the ultimate goal, being the Numero Uno!!
2.

BRIDGE DESIGN CHALLENGE

:
Bridge Design Challenge gives you a great opportunity to prove your mettle as an innovative engineer and mark your talent nationwide by building your own model of a bridge.
Now it's your time to build your bridge model with creativity, technique and your engineering brains using noodles! So do come and be a part of this extraordinary event which will surely leave you with a marvelous experience.
3.

SCIENTOON

:
Ever got wondered by seeing the cartoons based on science. Wondered in a sense, how they make you smile and laugh; still, they provide you information about new researches, subjects, data & concepts in a simple, understandable and interesting thought-provoking way.
To put scientific ideas on paper in the form of cartoons and make them sensible, beautiful and present them in a different manner, Techkriti 2018 presents you the Scientoon.
4.

CONCATENATE

:
Have you ever wondered how to make a bucket full of the waterfall right over your friend's head, the moment you drop a simple pen? Ever wondered about creating a series of events which leads to the opening of the door while lying comfortably in the bed? Or, how to shoot a dart in a jumbled room in 30 steps?
Concatenate is all about building an entertaining and efficient complex version of a decent variety of tasks, using the regular stuff available in abundance around you! Concatenate is all about skills, creativity, critical thinking, innovation, and an enthusiasm to create something different.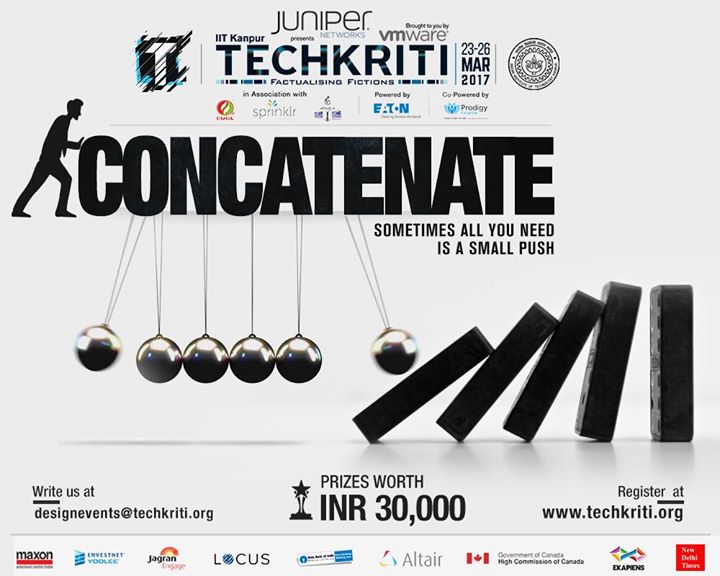 5.

EGG-DROP CHALLENGE

:
Egg drop challenge is an on the spot event in which teams have to design a compact structure using different types of materials acquired by them through Auctioning. Teams have to drop the structure from a height of 40 feet. The aim is to prevent the egg from cracking. Egg drop challenge helps in cases where you have to drop something safe from a certain height in an emergency.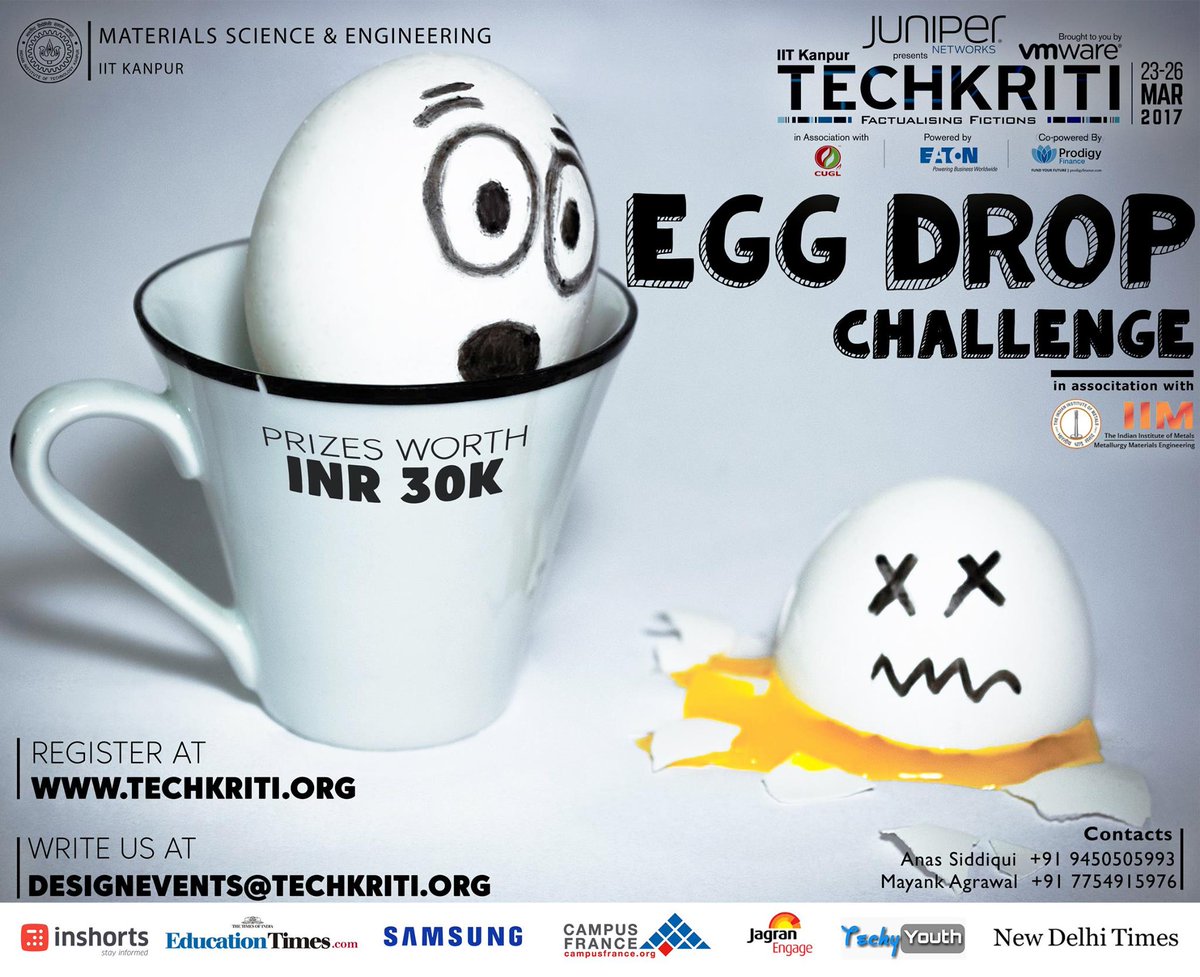 6.

ELECTROMANIA

:
What is the use of skills if you don't have any platform to perform on. Electromania brings you a platform to use your electronic enthusiasm to create another hero in your gaming world.
7.

EMBEDDED

:
Each day, our lives become more dependent on 'embedded systems', digital information technology that is embedded in our environment. One of the many applications of embedded systems is in the field of automation. This technology makes life easier for the user and saves energy by utilizing devices according to strict requirements.
So, here's a similar challenge to the folks of electronics community; to create a home automation system which controls home appliances through the internet, making things convenient for the user.
8.

MEASURE IT-3D

:
In India, the eCommerce sector has seen unprecedented growth in the recent past. The new mantra is, "Buy anywhere, fulfill everywhere". So taking things from A to B is a big problem with many avenues for growth. One such avenue is the 3D stacking of packages in trucks. For optimal packaging, it is necessary to first know the exact dimensions of the cargo.
Here, in Measure It – 3d you'll get a chance to solve the real world problem of quickly measuring dimensions of cardboard boxes. You have to make something fast, accurate, cheap and robust.
9.

ELECTRADE

:
Technology in business is a growing necessity. As the years go by, the business world is leaning more and more toward it, making it almost impossible to separate the two from each other.In modern times, one cannot succeed only with his technological skill. Technology amalgamated with entrepreneurship skills has become a vehicle that facilitates prosperity in individuals, firms, regions, and nations.
Keeping up this spirit, Techkriti, this year presents to you 'ELECTRADE', where you get a glimpse of how your classroom education when topped with a pinch of entrepreneurial skills can make you the front-runner of the business.
10.

IARC

:
This event is all about an autonomous bot built from scratch by participants, judged on its ability to perform usual tasks. It tests the level of precision in the end to end designing and fabrication of the bot and intelligent use of sensors and coding.
11.

MANOEUVRE

:
This year's problem statement depends mostly on the choices you make, the path you choose, for moving the blocks around and gaining points by arranging them in patterns as well as stacking them. Gameplay will consist of two bots coordinating with each other and transporting boxes into their respective areas. Special Objects are also available in the arena, which might fetch you extra points.
12.

IRGT

:
Robotics, needless to say, has been the most Interesting field of technical advancements in recent times! With a vision to motivate people all over the world to indulge in this passion, Techkriti introduces to you the International ROBOT'S GOT TALENT!
All you need to do is to design and build a robot(s), which can entertain us homo-sapiens!
13.

ROBOWARS

:
The ultimate test of engineering excellence, teamwork, strategy, and gaming is here! Techkriti brings to you its flagship event, Robowars. Witness the brightest engineers in India build the mightiest monsters which shall unleash Armageddon on the battle turf where only the toughest will survive!
14.

CAPTURE THE FLAG (CTF)

:
In CTF, students tackle problems in a series of real-world scenarios modeling all sorts of computer security problems, wherein, to succeed, they must demonstrate a profound understanding of the roles and ramifications of cyber security in these situations.
Because the challenges are designed to teach, CTF requires contestants to integrate concepts, develop skills and learn to hack as they go.
15.

CHAOS

:
With the advancement of Computer technology, the same old languages are no longer competitive. Computer Languages are in a constant change adapting to the needs of the programmer. So we at Techkriti bring forward Chaos, showing your worth as a new age programmer unrestricted by the bounds of languages and time.
16.

IOPC

:
IOPC is the annual International Online Programming Contest of IIT Kanpur, organized by the Techkriti team. It is a prestigious programming contest where each coder whacks his brain to code solutions to the given problems. It is the place where optimization and proficiency matters, skills matter, hard work matters, trying till the very end matters and winning loads of cash prizes matter!
17.

CRYPTO

:
If you loved cracking codes, demystifying the truth or had a knack for unraveling baffling puzzles or were fascinated by hacking, you are the right place Compete with the cleverest minds in the country to claim yourself to be the best cryptic code breaker of Techkriti'18. Cherish the moments of glory after being crowned as the next Sherlock Holmes.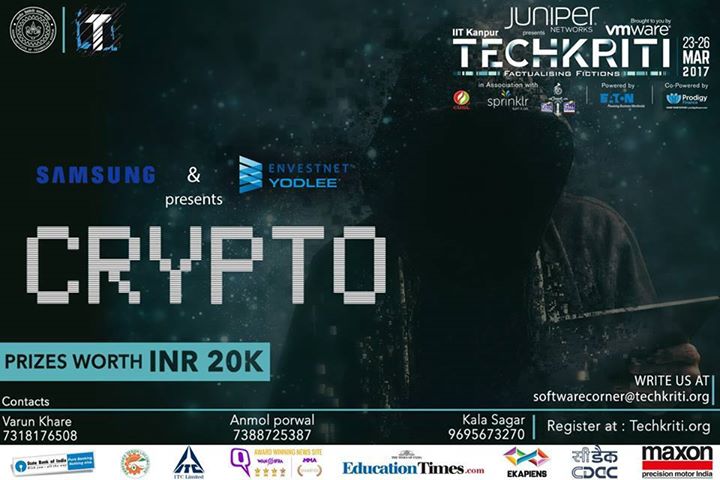 18.

HOVER RUGBY

:
Ever fascinated by the wrestling giants competing against each other for honor, pride, and glory! And the speed of a rugby player to achieve his aim. If so, then this is the event for you. Here it will be your hovercraft that will do the talking. So get up, design the most efficient quick wrestling hovercraft that you have ever imagined!!!
19.

MULTIROTOR

:
The hobby industry is exploding with model aircraft, and multi-rotors are no exception. These fascinating aircraft combine the flight characteristics of both a plane and a helicopter. This time Techkriti is giving you the opportunity to showcase your talents through Multi-rotor. Come meet some of the top Multi-rotor pilots, technicians, inventors and enthusiasts of the country at the Take-off Techkriti.
20.

RULE THE SKY

:
The competition provides a platform to compete for different flyers using your electric planes through a series of rounds doing different manoeuvers like Hammerhead, Inverted loop, Humpty-Bump etc. and showing their talent in flying.
21.

SKY SPARKS

:
The competition involves RC aircraft with electric motors. The competition provides a platform to compete for different flyers through a series of different rounds doing different maneuvers and showing their talent in flying like payload dropping, limbo flying and on spot landing.
22.

INDIAN OPEN RUBIK'S CUBE

:
The first ever official competition organized in India was at IIT Kanpur. The legacy of the Indian Open Rubik's Cube continues and we present the 11th edition of the competition.Compare and rank yourselves at the international level and compete with the best cubers around.
23.

ASTRO QUIZ

:
Astro Quiz is an exciting event which takes quizzing to a whole new genre. It has questions ranging from current astronomy activities to the ancient myths and legends. The questions will cover broad areas of astronomy, such as astrochemistry, astrobiology, astronomical observations, myths and legends and many more…..
24.

ASTRO TREASURE

:
Techkriti '18 presents to you the most astonishing competition Astro-Treasure. There you will get a chance to face hypothetical space situations.There are a lot of risks involved where you have limited number of resources and time which can be less or more. To face such situations you need to be a true warrior.
25.

NUTCRACKER

:
For some people, it's their hobby or habit but overall Problem solving is an important aspect of study and research. If you are a science student then you need to be fantastic in this art. Here are some pure science and mathematics problems and they are challenging your problem-solving abilities. You just need to write down best solution by utilizing your mind and knowledge to win the challenge.
26.

CRIME RUN

:
All the teams will be provided with a crime scene. You have to conduct a series of experiments to gather all possible evidence and use your deductive reasoning to make sense out of the evidence collected. All the necessary components for the experiments will be provided to you during the event. You have limited time at your disposal, so use it wisely.
27.

BATTLEFIELD

:
Get your data-hunting instincts up, Battlefield is here! With an elimination round, case study round and a presentation round, Battlefield will test your data analyzing skills inside out. Because if there is business, there has to be data analytics!
28.

BEST MANAGER

:
If you think you have what it takes to run a business, you must be an excellent manager. Best Manager will test if you can manage people, strategize as well as make the business profitable, all at the same time!
29.

MARKETING VILLA

:
You invented something really innovative but aren't getting enough attention? Well, you need to have a marketing flair as well. Marketing Villa will pick out the best and the smartest marketers.
30.

SUP-OPERATI

:
Knowledge of supply chain and operations management is essential for running a huge business. Sup-operate tests your skills of handling supply chain businesses.
Visit-https://techkriti.org/